Let's Take Ireland Forward Together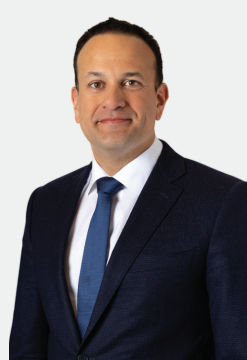 An Taoiseach
LEO VARADKAR TD
Ireland has come a long way in a short time. Hope and ambition have returned. People have worked hard for this and do not want to see any progress squandered. There is now huge investment in public services and significant job creation, and communities are starting to see the benefit of this:
2.2m people in employment – unemployment rate at 5.4%, 3 out of 5 jobs created outside of Dublin since 2016. This is 94,500 jobs.
Major roads projects - M11 Gorey to Enniscorthy, N25 New Ross Bypass; N4 CollooneyCastlebaldwin commencing.
Improvements on 1,100 rural roads.
18,000 new homes built in 2018
128 Primary Care Centres
Lowest ever pupil teacher ratio - 26:1
2,600 Gardai attested since we re-opened Templemore, now at almost 14,000.
€162m in Sports Capital in 2018
€1.152bn investment in Water Infrastructure in 2018/2019
Fine Gael is committed to reducing income taxes further and reducing the cost of accessing public services. This is a policy that will make life easier for more than a million people.
Taken together, this translates into the growth that will benefit every family and every citizen across the country. We love our country, and we all care for the places where we live, work, shop, socialise, exercise. There is a legitimate desire that national plans filter down to local implementation so that every part of the country benefits as we take Ireland forward together. That is the Fine Gael commitment we want to realise in this local election.
With progress, come new pressures - Work life balance, housing, transport, new and additional service and amenity requirements in localities so residents have the quality of life they deserve. In this election, Fine Gael candidates are the only ones with a plan that has your interests and your needs at heart. Fine Gael candidates are a part of a strong team at local, national and European level. With a strong Fine Gael representation in local government, with your help, we can work for your best future.
Fine Gael is the only party that can achieve an ambition we all want for Ireland – to have a strong economy and society in which nobody feels left out, with family at its centre, that is technologically responsive, has lower carbon emissions and a highly skilled workforce.
This manifesto outlines these priorities and the Project Ireland 2040 plan that will reach into every parish in every part of the country. Fine Gael is working to provide a strong economy and society in which nobody feels left out, that allows everyone put down roots, access education, start a business or take up a job, feel safe and well. Fine Gael's plan provides certainty that all of this is possible close to home. Together, we can take Ireland forward.
On 24th May Fine Gael Council candidates are asking for your Number 1 Vote. By voting Number 1 for Fine Gael you have certainty that you are voting for the strongest team with a plan as we take Ireland forward together:
1. ACCOUNTABLE, TRANSPARENT DECISION MAKING
Democratically elected mayors of Cork, Limerick, Waterford and Dublin – To ensure more effective delivery by a representative of the people.
Greater Budget Transparency – Every Council will provide a statement of accounts to every homeowner and ratepayer; you are entitled to know how your money is spent.
A Fair Local Property Tax – No change until 2021; No increases unless money is ringfenced for specific local projects and services.
2. MAKING LIFE EASIER FOR FAMILIES AND BUSINESS
More Housing – Increase number of new homes built every year to 35,000 and increase provision of new social housing to 12,000 a year.
Maximise Public Transport & Cycling – Pursue investment plans for better bus and rail services, better and safer facilities for cycling and walking to benefit citizens and business.
Improve Local Roads – Increase funding for local roads, footpaths and the Local Improvement Scheme.
More High-Speed Broadband – Every home, school and business in Ireland will have access to high speed broadband.
Fairer Commercial Rates – Give Councillors the power to vary local rates to encourage new jobs and business.
Safer Society – More community Gardai and strengthened Joint Policing Committees, and more funding for CCTV in communities.
3. BRINGING COMMUNITIES TOGETHER
Prioritising Play and Recreation – More open spaces, playgrounds, greenways across the country.
Town and Village Renewal – Support community leaders and initiatives that bring vibrancy to their areas Improve local environment and amenities, promote tourism, commercial and local initiatives.
Exploit Tourism and Sports potential – Drive Councils to develop tourist attractions and sporting facilities.
4. PROTECTING OUR ENVIRONMENT
Leading on Climate Action – Ensure Councils adapt ambitious mitigation and adaptation programmes.
Cracking down on Illegal Dumping – Introduce SMART enforcement of our waste laws such as use of drones to identify illegal activity.
Creating Clear Air Zones – Introduce "higher air quality zones" to restrict the burning of certain fuels, limit high emission vehicles, and other measures to raise standards of air quality.